Convenience Stores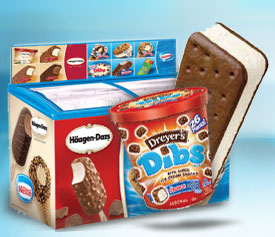 When your customers have access to quality brands, you move more products. This means higher profitability for you. Frozen Gourmet, Inc. is the exclusive distributor of top-selling national brands that your customers recognize and want to buy. We distribute ice cream products like Nestle, Dreyer's, Haagen-Dazs, Drumstick, and the number one selling item, Toll House Cookie Sandwich, to convenience stores in Northern California and Southern Oregon.
At Frozen Gourmet, Inc. we believe it's our job is to make your job easier. Our full-service Direct Store Delivery (DSD) service means you never have to worry about ordering. We write your order, deliver, stock, and rotate your premium products.
To meet all your needs, we supply fully serviced, quality freezer equipment and point-of-sale materials to successfully sell as many single serve ice cream products as possible.