Grocery Stores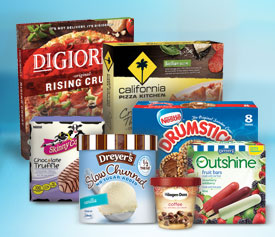 At Frozen Gourmet, Inc., we know that quality counts. That's why we're proud to be the exclusive distributor of premium brands like Dreyer's, Haagen-Dazs, Skinny Cow, Drumstick, and Nestle ice cream products as well as DiGiorno, California Pizza Kitchen, Tombstone pizza products, and Naked® Juice.
We provide the most efficient Direct Store Delivery (DSD) program to the grocery trade within our service area, which includes Northern California and Southern Oregon. Our well-maintained fleet of delivery vehicles ensures your product gets to your door fresh, in good condition, and ready for purchase. And to make your experience hassle-free, we offer orderless service, which means you don't have to make a phone call. Our professional and friendly sales people stock and rotate product on your shelves, then write your order. The following day your products are delivered and merchandised. Frozen Gourmet, Inc.'s full-service DSD program saves you all the labor costs of stocking, ordering, and selling our high-volume national brands.
To further increase sales and help your business succeed, we offer schematic design and supply point-of-sale items as needed.